BACK
GANNI COLD FACTS
COPENHAGEN FASHION SUMMIT 2019
We want to be transparent with you: GANNI is not perfect, but we strive to improve every day. This Copenhagen Fashion Summit 2019, we're handing out the cold facts – the cold fact popsicle is an awareness appetiser. It's not meant to sweeten your day. It's not meant to point fingers either. It's a simple serving of ice cold facts, to give you a heads up on our planets current situation. It is transparent like our commitment to sustainability. And hopefully, a reminder to help take part in cooling down the Earth together.

*All cold facts have been accredited by CEMAsys - a Silver accredited partner by CDP (Carbon Disclosure Project).
COLD FACT #1
A) Plastic is one of the biggest environmental issues. By 2050, oceans could contain more plastics than fish.

B) By 2025, all our packaging will be reusable, recyclable, or compostable. RePack is one way we're tackling single-use packaging. Hit us up at sustainability@ganni.com if you have any ideas.
COLD FACT #2
A) Fashion must become circular. Less than 1% of material used to produce clothing is recycled into new clothing.

B) We're working on becoming more circular by using recycled fabrics, introducing rentals & taking back your old clothes by 2020.
COLD FACT #3
A) The fashion industry isn't sustainable & accounts for around 10% of all CO2 emissions.

B) We're on a journey to reduce CO2 emissions by 30% for 2030 & aim for zero CO2 by 2050. In the meantime, we have been offsetting our full CO2 footprint since 2016.
COLD FACT #4
A) According to the UN IPCC, we have 11 years to limit the impact of climate change.

B) In 2018, we compensated 399,225 tons of CO2. It's a small step, but the situation is so crazy, that we all have to act now. Compensate what you can here: www.conservation.org/act/carboncalculator

We will be turning the popsicle sticks into edible mushrooms thanks to www.beyondcoffee.dk

All we have to do is:
A) Boil the stick in water for 15 min.
B) Drain
C) Add cold water from the tap.
D) Let it sit for 15 min more.
E) Then drain again.
F) Put in a bucket with mushroom seeds (mycelium) and wait for it to grow into mushrooms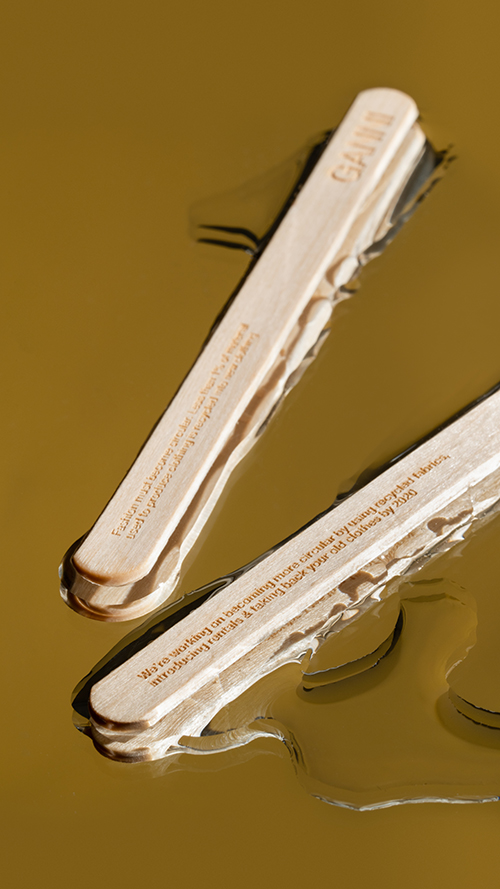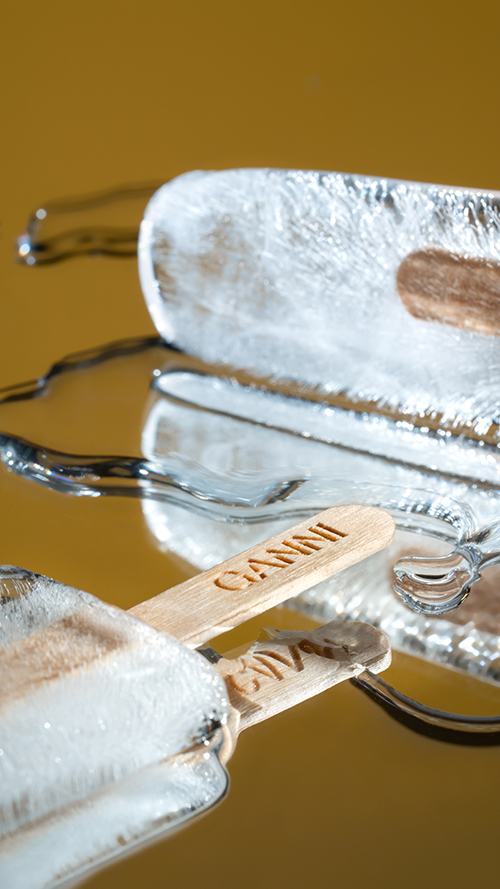 GANNI & SUSTAINABILITY
We're always trying to challenge ourselves to make changes for the better. We've been tracking and offsetting our carbon footprint since 2016. And this year we're introducing more sustainable materials throughout each collection. This year, we implemented the Higg index - a suite of tools that enables us to accurately measure and trace our product sustainability performance, so we can be even more transparent with you

The Cold Facts is one of more than 25 initiatives we've launched to date, some deal with profound supply chain challenges, while others are more symbolic and serve to create awareness amongst our community, employees, and partners.

We're not saying we're perfect, but it's a start, and we're trying to do better for the planet every day.

If you want to hear more about our sustainable efforts, or have any suggestions, please reach out to us: sustainability@ganni.com
GO BACK TO OVERVIEW