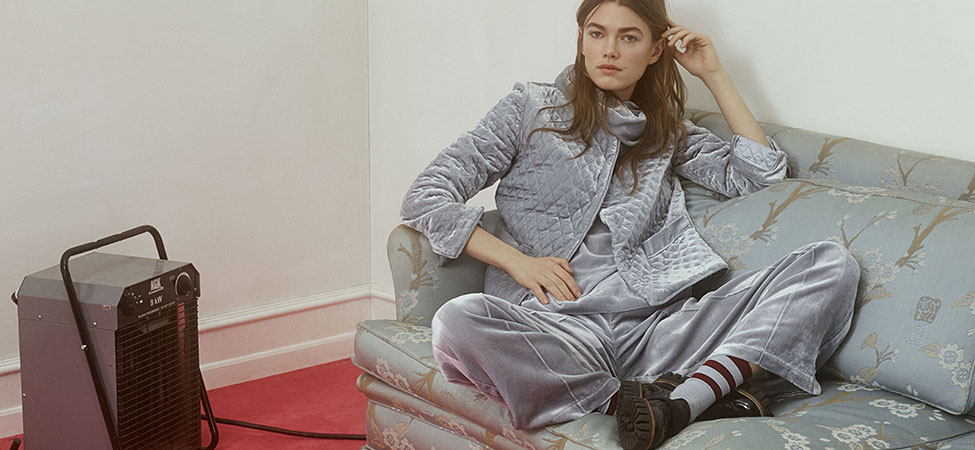 FW16 Campaign
Ganni Fall Winter 2016
"I've always loved Britpop. Blur's music was the soundtrack to my teenage years – dancing to Parklife in my bedroom. This season I've been thinking a lot about 1990s London cool. It's funny how modern and right so much of it looks now – the cheeky, tomboy style of the girls in bands like Elastica and Pulp. I wanted Fall/Winter to have that attitude and energy. But I also found myself drawn to the other side of British fashion – lady-like shoes, argyle knits and satin. So it's Damon Albarn and the Queen!"
- Ditte Reffstrup, Creative Director, Ganni
This season finds Ganni Creative Director Ditte Reffstrup having an Anglophile moment. The Fall/Winter collection has two English muses: Damon Albarn and Queen Elizabeth. Ditte pulls these contrasting inspirations together to form a collection of easy-to-wear, must-have pieces for now. Take Fall's stand-out look: a jacket and matching pants in 1990s-era velvet, updated in dove blue, with fresh, wide-leg pants and a cool, collarless jacket.
Elsewhere, the influence of Britpop cool extends to a floral brocade mini skirt and blazer, a sports-casual zip-up tracksuit jacket with black lace detailing, and the collection's colour palette: restricted to dove blue, greens and browns, with a flash of pink.
In a collection of opposites, Ditte also playfully references the British royal family, with an argyle-knit sweater and the collection's hero accessories: a sugar-candy pink plastic snake-effect mini-shoulder bag and matching shoes with a chunky transparent heel – a nod to prim-and-proper dressing, but fantastic, fun and utterly covetable.