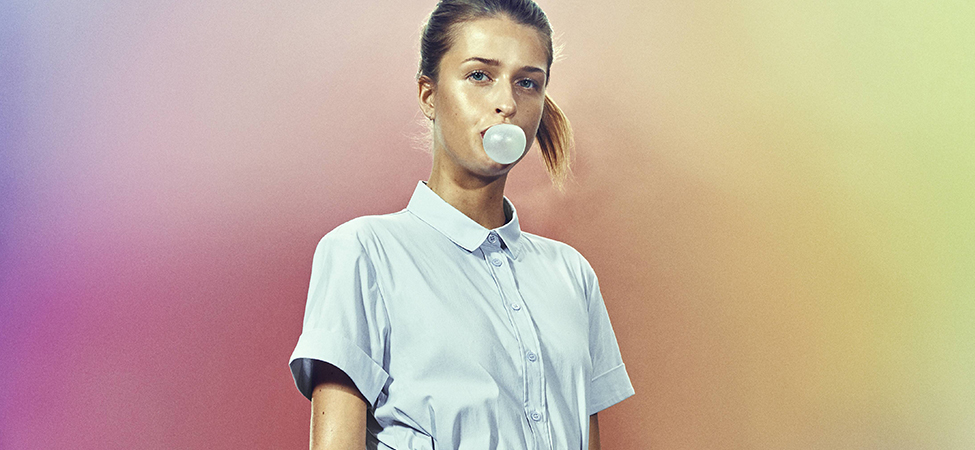 PF16 Campaign
Ganni Pre Fall 2016
"I adore Tokyo. It's such a dizzying kaleidoscope – from the crazy street style of Aoyama to the serene Meiji shrine in Harajuku surrounded by lush forest, to Bill Murray's 'Lost in Translation' bar on the 52nd floor of the Park Hyatt. I've travelled to other inspiring cities this year, but Tokyo stole my heart. People there have amazing style. There are outrageous eccentrics like the Gothic Lolitas, 'kawaii' cute Decora girls and Insta-friendly day-glo cool kids. But I also love the opposite: that tranquil, pure minimalism that feels like a cool glass of water. It's all there in our Pre Fall 2016 collection – a cele- bration of an ultra-modern capital.."
- Ditte Reffstrup, Creative Director, Ganni.
There's nowhere in the world quite like Tokyo according to Ditte Reffstrup, who was thinking about her recent travels to Japan when she was designing the Pre Fall collection, plucking inspirations old and new. Ganni's signature 'perfect shirt' is reimagined with a traditional loose-fitting Japanese silhouette, in a gorgeous clash of kimono-style red and blue flower prints. There is a nod to Japan in pyjamas-as-daywear pieces – shirts and pants which also owe a little to the glamour of Katharine Hepburn. Ditte takes a leaf out of Japanese nature, using traditional flower prints, but fuses them with modern street style. An exquisite orchid flower print appears on a slip dress – styled with boxy sneakers, calling to mind Kate Moss in the 1990s. The eccentric clash-and-match styling of the collection is borrowed from contemporary Tokyo fashion tribes, who hang out in the city's cool Harajuku neighbourhood. A floral sweatshirt is worn over leopard print joggers. Sporty satin shorts are paired with ankle socks and heels. It shouldn't work but it does. The collection's mascot is also a nod to modern Tokyo – a "Kawaii" ( Japanese for cute) patch embroidered on shorts, sweatshirts and a black silk kimono jacket.