BACK
PRODUCT
We're committed to a more sustainable production which includes the materials we use in our collections. We don't view it as a quick fix but something we're taking seriously as part of the Circularity Commitment we signed with the Global Fashion Agenda and will incorporate Sustainable Development Goal 12 - Responsible Consumption and Production - within this.
PRODUCT
For us to begin incorporating Sustainable Development Goal 12 and ensure sustainable consumption and production patterns, we have started our journey of reviewing our production from the fibres and materials we work with, where we produce, where we sell and who we work with, to make solid improvements.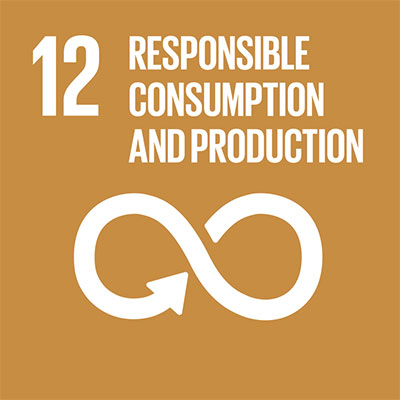 So far, we've managed to introduce the following sustainable materials:
BIODEGRADABLE RAINWEAR
We gave our outerwear a rain check for Pre-Fall 2018, using biodegradable thermoplastic instead of Polyurethane (PU) and have carried this through across future collections.
RECYCLED SWIMWEAR
This May, we are excited to introduce 5 different exclusive swimwear styles made from a recycled polyamide and recycled polyester. from regenerated raw materials and which meets given traceability requirements. The lining is made out of 92% recycled polyester and has a number of environmental benefits, including slashing CO2 emissions by 80%. The swimwear comes in a bio-thermoplastic bag too.
RECYCLED POLYESTER AND RECYCLED POLYAMIDE
This will be introduced across certain lines in our Fall Winter 2019 collection. Watch this space.

From February 2019, GANNI neck labels in all garments will be made from recycled polyester and all Hang tags on all GANNI garments made are FSC Certified, which ensures that our hang tags have been checked at every stage of processing so that you can be confident they are genuinely FSC certified.

Since January 2019, the tote bags we use for gifting are GOTS Certified organic cotton which ensures the organic status of cotton tote bags, from the harvesting of the raw materials through to responsible manufacturing

Our new eyewear cases launching in May are made from recycled polyester, plus the dyes and thread are OEKO-TEX certified, which guarantees no harmful substances have been used during their production.

Any wool we source is certified to the Responsible Wool Standard, which is a voluntary global standard that addresses the welfare of sheep and of the land they graze on.

Any Down we source is certified to the Responsible Down standard, who safeguard the welfare of geese and ducks that provide down and feathers for the Down products.
SWEDISH STOCKINGS
We've collaborated with the first-ever sustainable hosiery brand to create a line of sustainable stockings launching September 2019.
RUNE ORLOFF
We are working with SARDIN co-founder, Rune Orloff as our go-to sustainability guru. Rune's responsible clothing e-commerce platform works with environmental partner Parley for the Oceans and is helping us move toward a cleaner, more environmentally conscious future. He'll be advising us on sourcing fabrics and establishing made-to-order collaborations around the world to eliminate overproduction.
GO BACK TO OVERVIEW