BACK
PEOPLE
At GANNI, it's always our mission to celebrate all people around the world and something that is at the core of our DNA is supporting female empowerment and gender equality.

Our business relies on people – and how we treat them, matters. The GANNI team operates all over the world, from our offices in Copenhagen, London, and New York to our suppliers in Italy, Portugal, China, India, and Turkey. GANNI is designed by women, for women – our global community of #GANNIGirls. We embrace all women, and an area we feel particularly passionate about is supporting female empowerment and gender equality.

GENDER EQUALITY
GANNI Girls is a state of mind, an attitude more than a way of dressing. It's not one single polished persona or gender - it's plural and inclusive of everyone. Togetherness is what our movement of #GANNIGirls is all about and we are forever inspired by the people who wear us, they're full of personality and confidence. GANNI Girls view personal style as a form of self-expression and march to the beat of their own drum.

To give back to our community, we support initiatives that elevate the voices of people across the globe and champion gender equality.

We actively engage in social and charitable initiatives that support and empower women in the community, including the Global Girls World Cup and since 2016, the Clean Cookstoves Alliance Project in Nepal and Ghana.

We incorporate the UN Global Sustainable Development Goals into how we work, and a main focus is on Goal 5, which looks to end all forms of gender discrimination worldwide.
GLOBAL GIRLS 
WORLD CUP

Since 2014, we've teamed up with Global Goals World Cup (GGWCUP) in supporting the UN Sustainable Development Goals. GGWCUP is an open women's soccer tournament, and a partnership between EIR Soccer, The United Nations Development Program (UNDP), Save the Children International, the Danish government and a range of supporting soccer and development organizations. The world cup works to raise awareness and mobilize communities in support of the UN Sustainable Development Goals through a powerful female sports platform focused on soccer. Football is something that is close to our Creative Director Ditte Reffstrup's heart and our focus is to have fun while celebrating togetherness and empowering women.
WAYS TO GET INVOLVED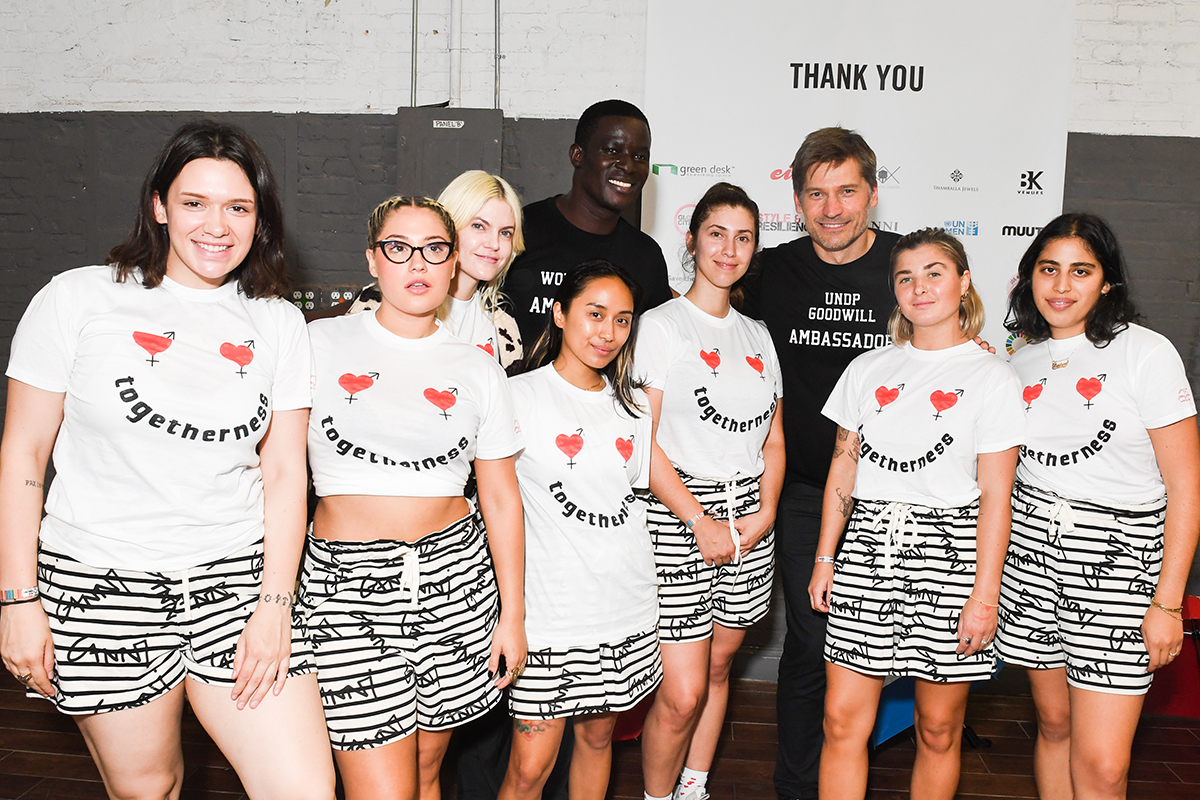 CLEAN COOKING ALLIANCE

Since 2016, we've been mapping our CO2 footprint. Once we calculate the GANNI Carbon footprint, we verify this with an independent an accredited partner CEMAsys, who calculate how much we're costing the earth in monetary value, known as 'Carbon Credits'. We then spend these Carbon Credits on Global Standard Foundation and UN approved social projects that support clean energy and bring positive change to people's lives.

We've been working on a project since 2016 that provides energy efficient cook stoves to support women and their families in Nepal and more recently, Ghana. In gaining access to efficient and clean cookstoves, it prevents less carbon monoxide and toxic fumes being inhaled.

The clean cookstove project helps creates jobs in the local community, with employment of both men and women in the region. They are educated in the health benefits of using clean-burning stoves and employed in the production of stoves. This gives locals a livelihood, with wages that are 80% higher than the minimum wage. In 2018, we created and installed a total 2,250 cookstoves.
FIND OUT MORE
HUMAN RIGHTS
We have committed to the UN Global Compact since 2017, a principle-based framework that states ten principles in the areas of human rights, labor, the environment, and anti-corruption and have started to work with the UN Guiding Principles, which sets a minimum standard for all 48 human rights, to give us greater visibility on how we can improve our social sustainability.

CODE OF CONDUCT
Our code of conduct has been in place since 2017 and sets the ethical and social behavioural framework and outlines our standards to external partners and suppliers. The code of conduct is based on the UN 10 principles and the International Labour Organisation (ILO). It's reviewed and signed by all partners and suppliers annually.

We are currently implementing the Higg Index, which is a suite of tools used in the fashion industry to increase supply chain transparency and sustainability.

OUR EMPLOYEES AT GANNI

The wellbeing of our employees at our offices in Copenhagen, London and New York is so important to the way we do business. We create a culture where our employees feel valued and are empowered and encouraged to provide regular feedback on their personal experiences working at GANNI. We have introduced bi-weekly feedback questionnaires via Peakon - a platform that encourages employees to use their voice. We then measure their feedback, take it away and escalate it, so we can improve employee experience and culture.

We value that the culture we create internally and information we share with employees on sustainability is imperative and will ultimately help inspire and change the way we all conduct business.

We've implemented several initiatives in our offices to change behaviour, such as a Sustainability Guide as part of our onboarding process, changing our lunch offering to 90% vegetarian and organic, and creating a digital-first mindset to avoid unnecessary printing.

We've also just started recycling our coffee grounds waste and growing it into oyster mushrooms thanks to GroCycle!

As part of the 2018 holiday season gift to GANNI employees and friends of GANNI, we purchased 2,5 tons of CO2 for each individual, which roughly covers the annual CO2 consumption of a citizen. The money spent to carbon compensate will fund UN approved social projects that promote clean energy.


GO BACK TO OVERVIEW